Haere mai / welcome to Selwyn Timebank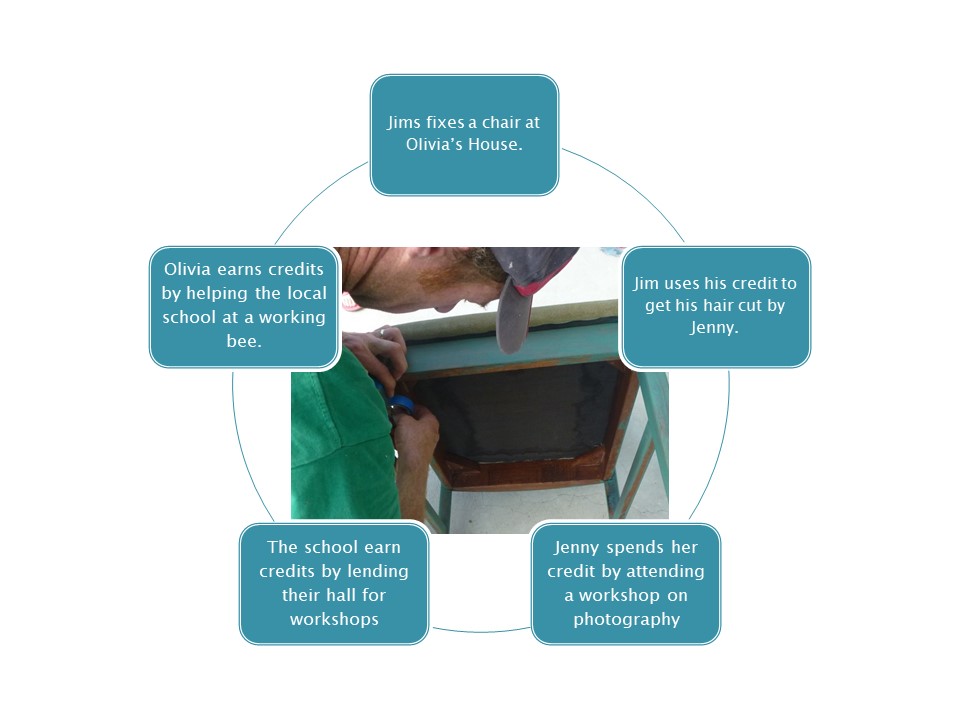 What is a Timebank?
The Selwyn Timebank has been set up to strengthen our communities by creating opportunities for people to meet their neighbours and pool their resources and skills.
Timebanks trade in time credits rather than money. Timebank members can request help for a specific job and then pay for that help with time credits. Timebanks do not need direct trades to work because time credits earned are put in an account to be spent when needed. Working bees to get big jobs done are a great way of harnessing the energy of a timebank and provide an opportunity for people to meet.

Organisations and schools can also be Timebank members and can pay their volunteers with credits.

Why a Timebank?

Timebanks recognize that all members of a community have skills to contribute, and that the overall community is strengthened when neighbours help one another.

In fast-growing communities, such as many of the towns in the Selwyn district, newcomers may not easily meet other residents. For established residents traditional networks may break down as grown up children settle elsewhere and neighbours commute into town to work. The Selwyn timebank provides a new way of forming networks and meeting other people in the community.

In Lyttelton after the 2010 and 2011 earthquakes the timebank played an essential communication and resource role and became an essential part of the local civil defence.
Timebank and tax
In other countries timebank activities are tax exempt. In Aotearoa New Zealand the current advice from the IRD is that timebankers should not trade the service they earn their main income from. For example, if you earn your main income as a chef you may not want to offer cooking as your service. However, you could offer cooking classes as this is not what you earn your income from. If you are a retired piano tuner you could offer piano tuning as a service because you no longer earn your income from this.

A brief history of Timebanking

Timebanking was invented in the USA in the early 1980s by Edgar S Cahn. The first Timebank in Aotearoa was the Lyttelton Timebank, established in 2005. Timebanks are popular in the UK, USA and throughout Europe. They are gaining popularity in Aotearoa and currently there are 30 Timebanks in New Zealand, from Kaitaia to Gore.
Neighbourhoods within the Selwyn Timebank
We realise that the Selwyn District is large and has many unique communities within it. While this Timebank aims to serve the whole of the Selwyn District we ackowledge that most people would rather trade within their own community. As a Selwyn Timebank member you can search within your own neighbourhood (for example, Tai Tapu, Lincoln or Southbridge) or search across the whole district. There is also an events page for each active neighbourhood so that you can share relevant information within your community.

How to join

Become a member by creating a new account for yourself or email the coordinator on selwyntimebank@gmail.com with your contact details. The coordinator will ask for the names of two people to be character references for you. You'll then be invited to an hour-long orientation session where you will learn how to use the website and how to go about trading.

Once you are a member you will be emailed a weekly "broadcast" which lists the latest offers and requests.

We look forward to meeting you!

The Selwyn Timebank team

Acknowledgements
The Selwyn Timebank is a Lincoln Envirotown initiative. We have chosen to use Community Forge software, which is open source software developed by Matthew Slater. This software is used by L.E.T.S and timebanks around the world.
The Selwyn Timebank is being supported by The Canterbury Community Trust, Community Organisation Grants Scheme (COGS).

The Selwyn Timebank was set up using funds from the Ministry of Social Development.